Paintless Dent Removal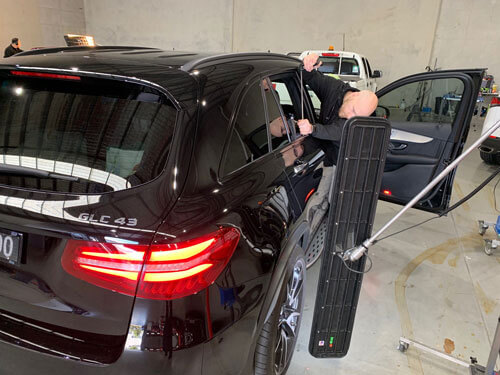 Paintless dent removal is a popular option for many car owners who want to fix dents without the need of having to get a new paint job, costly restoration and being without a vehicle for extended periods of time.
Apart from the cost-effective benefits and increased convenience, paintless dent removal has become a very common practice across the motor industry.
Located in the Gregory Hills business park, Dent HQ are your hail dent repair specialists. Providing high quality dent repair services to the Macarthur, Camden and Campbelltown region.
FREE Dent repair Assessments
Our experienced dent repair technicians will inspect in detail all hail damage and dents. After our assessment of the damage we will be able to decide on the best paintless dent removal process that is suitable for the affected area. Whether it is a small dent, large ding or lots of hail damage, our technician will decide on the best course of action to restore your car as good as new.
We provide our customers with a 100% satisfaction guarantee and are honest with results you can expect to achieve with your vehicle.
Simplifying the insurance process
Located in Sydney South West, Dent HQ provide quality efficient and reliable dent removal services. We aim to make working with all insurance companies as simple as possible.
At Dent HQ we specialise in the following automotive repairs.
Paintless dent removal
Door ding repairs
Hail damage repairs
Insurance repairs
What is P.D.R (Paintless Dent Removal)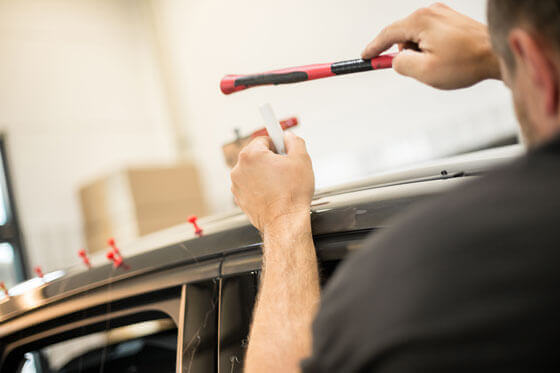 Paintless Dent Removal is a modern method of removing dents, dings and hail damage from vehicle panels. This highly innovative area of expertise within the automotive industry uses specially designed hand tools that work to gently manipulate the dent back into its original form. This process ensures the vehicles original paint finish is not damaged or altered.
The PDR process has become an extremely popular method for small dents, hail damage and large dents. Saving you time and money when compared to conventional smash repairs which may require weeks of filing, sanding and repainting.
How long does paintless dent removal take?
Paintless dent removal (PDR) is much quicker than conventional dent damage repair. The process often taking only days dependant on the number and complexity of the dents. Our technician will be able to give you a good indication as to the time it will take to complete repairs.